Paulaner USA Celebrates Reinheitsgebot, Germany's Beer Purity law
In celebration of the 500th anniversary of the Reinheitsgebot, Germany's Beer Purity law, Paulaner USA is sending out personal invites for two  and free beer to celebrate this landmark in beer history at the Red Lion Tavern in LA on Saturday, April 23rd.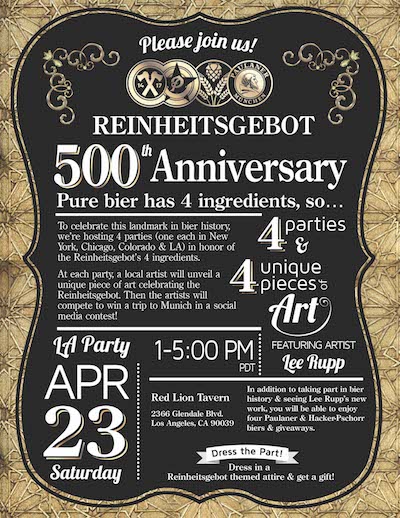 This is one of four parties being held across the nation.  That's because  The Beer Purity law dictates that only FOUR ingredients can be used for brewing including water, malt, yeast and hops. The law was originally introduced 500 years ago on April 23rd to protect beer consumers. At the time, water supplies were polluted so people drank beer, often in vast quantities, to keep thirst at bay. By ensuring beer contained only high-quality products the law protected the public from poor standard, and potentially lethal, beverages.
Reinheitsgebot also brought about a standardization in production well ahead of its time. Foreign brewers who wanted to enter the local market also had to stick to the law and so its influence began to spread far and wide. This law is still applicable nowadays, and breweries like Paulaner and Hacker-Pschorr remain loyal to this standard of brewing. So it goes without saying that each beer you will be tasting at the event will be brewed under the Reinheitsgebot.
Additionally, at each event a local artist will unveil a unique piece of art celebrating the Reinheitsgebot. This will in turn launch a social media contest where each artist will compete for votes to to win a trip to Munich, Germany. In LA, local artist Lee Rupp will unveil his work of art in honor of the celebration.
Furthermore, please expect hors' dourves, a goodie bag, giveaways and of course, Paulaner and Hacker Pschorr BEER!
WHERE: Red Lion Tavern
ADDRESS: 2366 Glendale Blvd, Los Angeles, CA 90039
DATE: April 23, 2016
TIME: 2pm-4pm PDT