Peacock Gardens Restaurant: Diamond Bar's Best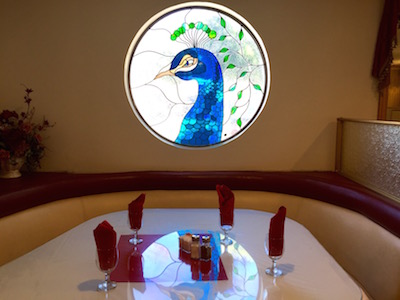 (Gerry Furth-Sides) Decades old, Peacock Gardens Restaurant and Banquet Room in  Diamond Bar has earned ZAGAT Senior Editor's affectionate distinction of " institution." He himself praised the restaurant as "Best Indian Restaurant" in the area.
In fact, my friends in Walnut singled it out for me years ago with an appealing, "We know you'll like it; you're a food writer. They are known to have the best kabobs anywhere." The claims are officially backed up with Peacock Gardens Restaurant awarded both the AAA Four Diamonds and the Mobil Travel Guide Four Stars ratings many years in a row.  It has also earned the Indian Restaurant Sentar Award.
The peacock is India's national bird, well known for its beauty and grace. To both Indians and Chinese, it is also a symbol of beauty, prosperity, royalty, love, compassion, soul and peace. As the congenial, masterful owner Raju rhetorically asked, "what does the bird do when it is proud?" Answer: it show off it's glorious feather plumage.
How does Peacock Garden Restaurant do this?  A full menu section of signature Special Dishes. The list includes Goat Meat Curry, Lamb Bhuna and Tandoori Catfish, along with the more commonChili Chicken and Chicken Tikka Masala, which still gives diners a means of comparison between restaurants.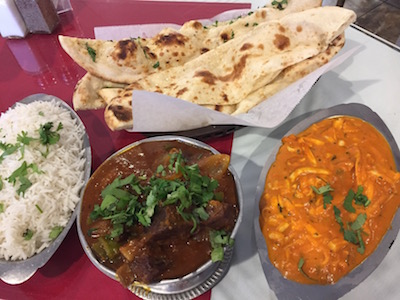 The Shahi Paneer Bhurji (above right) is a mix of Indian and Chinese fare, more of a creamy one-note and definitely for cheese lovers, minus the more usual variety of sweet and spicy expected in Indo-Chinese dishes.  Here,  soft cheese (paneer)made at the restaurant is shredded, then cooked in a sauce of tomato, onions, ginger, garlic and spices.
Goat Meat Curry is cooked bone-in for flavor, with herbs, freshly ground spices garlic, onion and a hint of ginger.  The bone-in enhances the flavor so much, while the stewing process ensures tenderness.
Chilli paneer  Goat marinated in milk fresh spices, ginger, onion and roasted with soya sauce, carrots and peppers.
Karahi Goat in one of the famous mutton karahi dishes. The goat becomes freshly ground meat, freshly ground spices mixed in for even flavoring. The Karahi in the name pertains to a flat-bottomed cast iron pan. It is similar to a wok but with steeper sides, and sits flat on the burner, best known for simmering stews because flavors permeate through and through. Like the North African tagine, the Karahi lends its name to dishes. Karahi made of decorative copper are used for serving the dishes.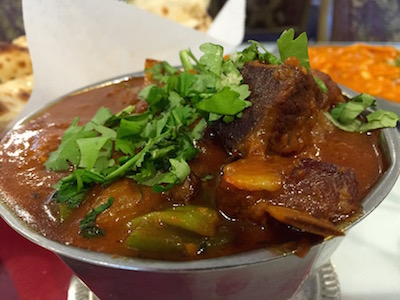 Marinated in spices, herbs and garlic into an exuberant hue of yellow-gold, Tandoori-seared Catfish (below) sits on a bed of tomato and grilled onions for contacting texture and full-bodied taste.  As with all dishes, the recipes are prepared with fresh spices, ground in-house and spiced to a diner's taste: mild, medium or hot.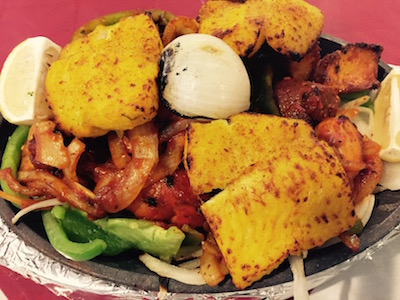 Every effort is made to make the restaurant into a welcoming place for the neighborhood. The staff includes English , Hindi and Spanish-speaking servers. Halal meat is provided for parties on request. And a well-equipped van sits outside in the free parking lot for Gourmet food delivery.
The popular buffet is offered at a practically-priced $9. The week-end champagne brunch is $13. The lunch buffet variety, filled regularly with freshly cooked food.
The energy of the banquet room adjacent to the dining area, seems to permeate throughout the small restaurant. The doors can be opened up to accommodate as many as 300 people, and is almost booked solid. An enlarged party staff is on hand with the same gracious, efficient service as in the restaurant. A bartender and full bar are also available, or guests can serve what they bring.  "We give you a dance floor and disco ball if you want" is the promise.
Peacock Gardens Restaurant, 23347 Golden Springs Drive, Diamond Bar, CA 91765, (909) 860-2606. For more information, please see:  http://www.peacockdiamondbar.com/