Pressed Juicery Introduces Best Drinkable Vitamins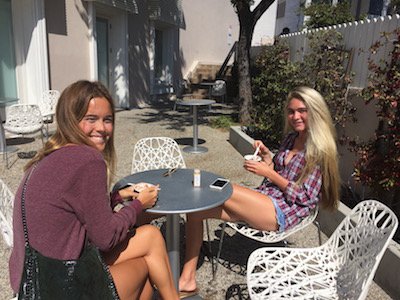 (Gerry Furth-Sides) Meg and Mary drive in from Malibu to Brentwood Pressed Juicery      (www.pressedjuicery.com) for their Freeze snacks at least twice a week they told me.  The  "Freeze" (above) is the "vanilla" and "fruit" with raspberries (which replaced the mochi dots. The Freeze (below) is the "green" and "chocolate."  It is garnished with blueberries and white chocolate dots.  And is is all fruit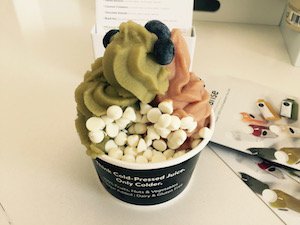 Is the continuation of a trend?   Now an American health snack and juice bar, the wonderfully visible Brentwood space was formerly a Pinkberry Yogurt (Asian fad-Asian yogurt store ).  The Starbucks across from was at one time a Haagan-Däaz ice cream store (American made-up Swedish name brand).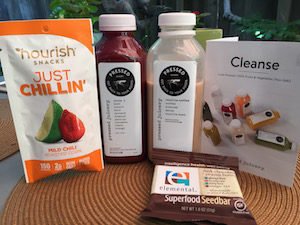 The little side patio is backed with a country white fence and the beginnings of a garden.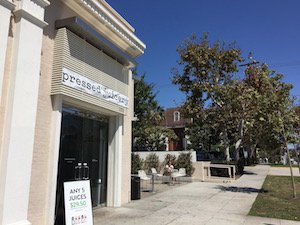 Marking the 15th Los Angeles store opening of Pressed Juicery, and the  new Brentwood location also features the pretty spectacular "Freeze." A  Pressed Juicery original, the popular vegan, dairy-free, gluten-free frozen soft serve treat is prepared from only the ingredients found in juices.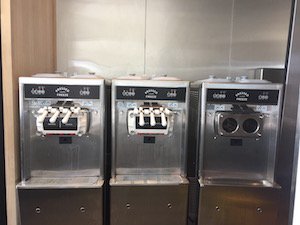 It took some convincing on the of Tommy Ray for my friend, restaurant owner, Martin of India's Tandoor Brentwood, that there was no added sugar.  Martin cannot eat sugar and this was remarkable since the taste is so similar to yogurt.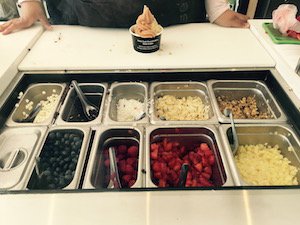 The four flavors (chocolate, vanilla, greens and fruits) can be garnished with healthy and unique toppings such as almond butter, chia seeds, fruit and cacao drizzle and is the perfect guilt-free treat.  All the items in the case look fresh and so appealing.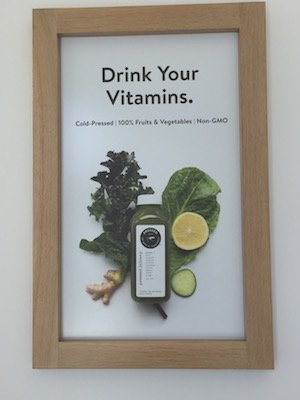 The new Brentwood store also offers the brand's cold-pressed juices, 2 oz. functional shots, signature beverages, specialty waters and cold-pressed coffee and specialty  waters in addition to and a variety of coffees.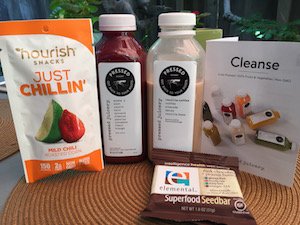 A curated selection of  small package snacks included *nourish snacks.  the Just Chillin features intriguing Mild Chile corn crackers with lime, a classic and contemporary favorite that is snappy and delicious.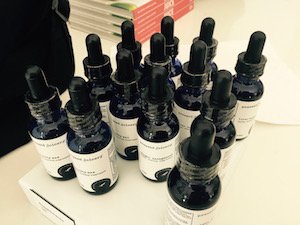 The popular cold-pressed juice chain, established in 2010 by childhood
friends Hayden Slater, Hedi Gores and Carly de Castro, was created with the  goal of making high nutrition a realistic option for everyone. To support  this mission, the brand will maintain a competitive price point with juices  priced at approximately $6.50.
*When:                  *7 AM – 10 PM Daily
*Where:                *11711 Gorham Ave, Los Angeles, California, 90049
*Born in a small broom closet in West Los Angeles, Pressed Juicery has expanded to 40 retail locations and offers shipping nationwide. Juices are made from 100% fruits and vegetables and never contain added sugars, waters or purees. Juices are cold-pressed using a custom hydraulic press to extract the maximum nutrients and vitamins with minimal oxidation.
The Pressed Juicery's team is dedicated to creating attainable,
affordable and nutrient-rich juices based on the belief that wellness is a
right, not a luxury. Today, with locations throughout California, Nevada,
New York, New Jersey and Hawaii.
Carly de Castro: Letting go of yo-yo diets and rigid fitness routines, Carly discovered a more positive and balanced life through juicing. After losing her mom to cancer, Carly moved back home to Los Angeles and envisioned a business that would make nutrient-rich juice more accessible to all, particularly those with weakened immune systems.
Hayden Slater: A former fast food junkie, Hayden transformed his entire life by introducing juice into his diet, and has since lost over 60 lbs. Now feeling and living his best, Hayden has set a personal mission to promote health and healing to everyone, one juice at a time.
Hedi Gores: Born and raised in Los Angeles, Hedi has always strived to live a healthy lifestyle. But it was her role as a mom that led her to co-founding Pressed. Pursuing her passion, Hedi set out to create a place where people, especially kids, could incorporate healthy eating into their everyday lives.