Rekorderlig Hard Ciders Capture Essence of Swedish Spring Water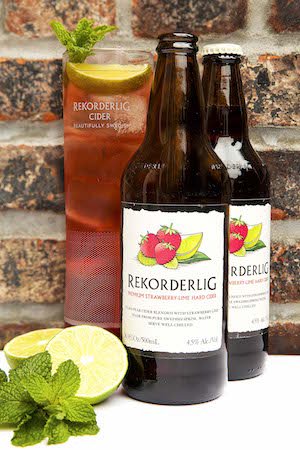 This brand of  cider was first created in 1996 with the purest spring water from Vimmerby, Sweden, where it is still brewed today by Åbro Bragger. Please see www.rekorderlig.com for details.
Imagine arriving home and having this spanking new canvas tote hanging on your gate nob that looks as sunny and as much fun as Anita Edberg running in the fountain in La Dolce Vita.   Not in a box, not in a plastic envelope, just carefree and open in the sun – a little card attached with your name neatly printed on it.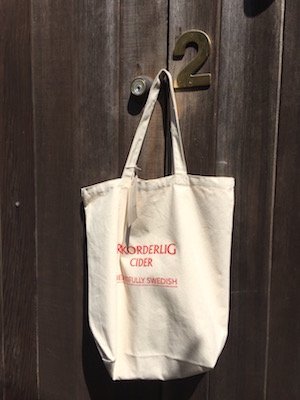 We already adore Stig Larsen and Ingmar Bergman and the summer we spent in Stockholm.  In Sweden it feels as though everyone compresses all the warm glow of a longer summer into a month or so – and so does the fruit hard cider drinks.
What a drink made with pure spring water to capture summer. The Swedish perfection of design, the modesty and the slightly hard edge – think Liv Ullman.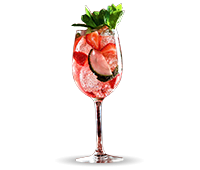 If the drink shown above appears to be in a cocktail glass, it is on purpose.  Swedish law rules that stores in Sweden cannot sell cider with less than 15 percentage juice by volume under the name "Cider." Less than 15% juice is instead usually sold as "Apple/Pear beverage of cider character." In Swedish this is known as "Äpple-/Pärondryck med Ciderkaraktär"). Rekorderlig, is the best known brand of cider in Sweden.
Rekorderlig also ranks high in popularity on an international scale. On the trendy westside of Los Angeles alone, the two-longtime stays of Venice include tony Chinois on Main and neighborhood favorite, Hals, among the long list.  Add to that the cursing edge places, Son of a Gun and Tavern in Brentwood.  Wally's Wine in the Westwood area sells the stuff.  It is suggested that the drink be well chilled and the cider arrives in cans that even look chilled!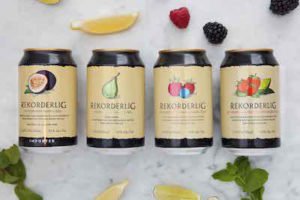 Cider is not apple juice is not cider.  The difference is in the alcohol content created from fermented fruit.  In North America it is known as hard cider and it is designated as an alcoholic beverage (made from the fermented juice of apples). I always favored hard cider but did not know why until I researched this.
The juice of any variety of apple can be used to make cider, but the fruit know as cider apples are known to be best.  The addition of sugar or extra fruit before a second fermentation increases the final alcoholic content read.
Cider is popular on an international scale.  Topping the list is the United Kingdom with  the world's highest per capita consumption, as well as its largest cider-producing companies.    Cider is also popular in Ireland, Portugal, France and Spain.
Central Europe produces its own types of cider. The name "apfelwein," a tart version of cider associated with Rhineland-Palatinate and Hess,  seems to describe the drink's alcoholic content better.
Cider alcohol content varies from 1.2%  ABV  to 8.5% or more in traditional English ciders, and 3.5% to 12% in continental ciders. In UK law, hard cider must contain at least 35% apple juice (fresh or from concentrate). In the US the alcoholic content must be at least half apples. In France, cider must be made solely from apples.
For a drink that can taste tart, a 2014  World Health Organization study found that a pint of mass-market cider contained five teaspoons (20.5 g) of sugar, nearly as much as the WHO recommends as an adult's healthy daily allowance of added sugar, and five to ten times the amount of sugar in lager or ale!
Rekorderlig typically Swedish fusion of high-end, premium design and modesty, it has a clear identity that sets it apart from others.
An aromatic blend of European apples infused with cinnamon and vanilla, Rekorderlig Spiced Apple Hard Cider can be enjoyed hot with a slice of orange or cold over ice.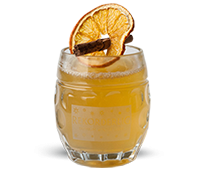 The HOT TODDY is a warming combination of rum, honey, lemon and Rekorderlig hot Spiced Apple Cider served with a cinnamon stick and an orange wheel.
Rekorderlig Passionfruit Cider has the aroma of ripe passionfruit and an intense tropical flavor; it is best served cold over ice with a squeeze of lime.   The PASSIONFRUIT COLLIN  is a summery mix of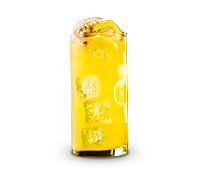 passionfruit vodka, fresh lemon juice and passionfruit puree; topped with soda water and Rekorderlig Passionfruit.
PORT OF LOVE  is described as a dark and delicious combination of nutty Amaretto, fruity Port and Angostura Bitters, topped with Rekorderlig Wild Berries.
Author

Local Food Eater
Author
Find Best food in your neighborhood.