Hyderabadi Biryani Best at Biryani Bowl, Fremont
We were lucky enough to join a festive full house at Biryani Bowl in Fremont, California for week-end specials of the best world-famous "dum biryani." the Hyderabad style means unbroken long grain basmati rice with seasoned, marinated chicken or Halal goat or egg … slow-cooked in a specially sealed vessel.  At least 6000 orders of this authentic version made from a family recipe march out the door every month.  And it's not unusual for happy customers like the one  below to come for lunch – from Los Angeles.  This is one story of Biranyi.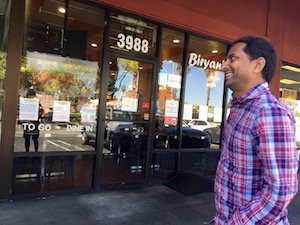 While chicken Tikka Masala (which originated in England) now ranks one of the top five favorite dishes in the world, but or Indians and those in the know, the choice is biranyi.  Let's just say that biranyi is Italy's Lasagna.  Every  family has their own  recipe. Each region boasts a unique individual version. But all roads lead to the favorite of all, Hyderabad.  And recently, in America the road leads to Biryani Bowl in Fremont, California.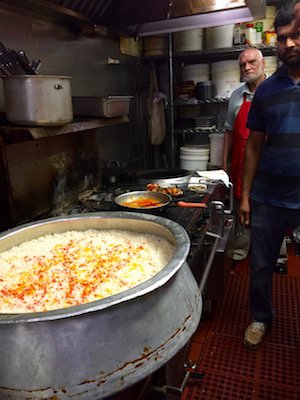 The perfect biryani calls for meticulously measured ingredients and a practiced technique. Rice is key. Long grained rice is treasured and the method used to cook it allows a starch to form around each grain so that it arrives at the table in long, perfect, unbroken pieces.
Ingredients – goat, chicken on the bone, chicken off the bone, egg – are marinated and loaded in a pot.   The pots used to be slow- cooked over charcoal, sometimes from the top also, to allow the dum or steam to works its magic.   Today they are put on a slow flame for 90 minutes.
Then the foil is carefully peeled back.
Traditionally , the dum pukht method (which translates as a "slow breathing oven in Persian") is used to make biryani. The pot, traditionally sealed around the edges with dough (now silver foil), allows the steaming meat to tenderize in its own juices while flavoring the rice.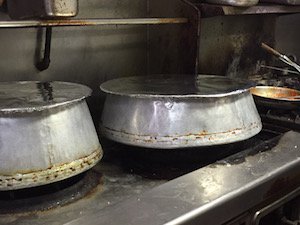 Biryani Bowl owner and connoisseur, VPraveen K Suggala, describes the process preparing the long grain basmati rice as, "already having some flavor. So we take a large aluminum container with boiling water with some butter in it,  and into it we dip a cloth bag filled all natural spices and tied.  After some time we take clean rice and drop it into this boiling water.  All the spiced rice grains will begin expand but it is not cooked completely.  And into this container we put the choice of chicken,  vegetarian, goat that each have their own marination and spread it along the bottom.   After some time we take the expanded rice and slowly, very gently we shift it into this container and on top we put some butter, lemon, coriander and wrap it with a silver foil and cook it for 90 minutes.  And that becomes the dum biryani."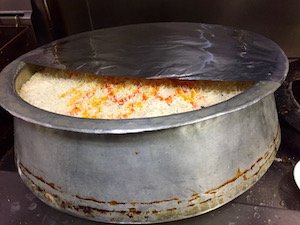 Other than the technique, spices are key, and they must be fresh, "not off the shelf" as we are told here. This is true whether it is a very limited use of spices while others use more than 15 different spices. Meat or chicken is often the main ingredient, though in some coastal varieties, fish, prawns, and crabs are used.  The meat and poultry are cooked with the rice.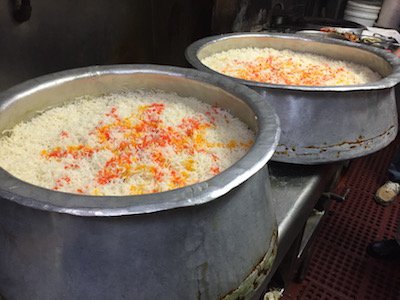 The shrimp is cooked separately and to perfection with its own sauce on the stove.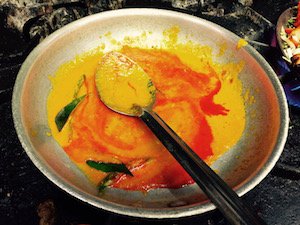 Dum Biryani is offered in Vegetable, Egg and Mutton that here is goat, Shrimp and chicken on the bone.    It is served with raita and a salon sauce in separate little bowls.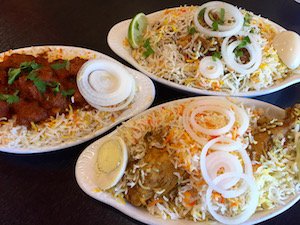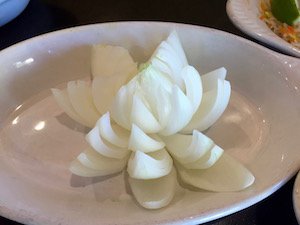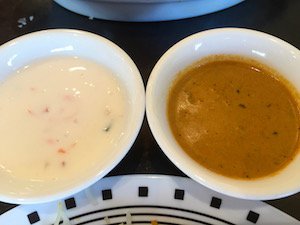 The prized boneless chicken Biryani offered on the week-end, is also available for late night pick-up or delivery.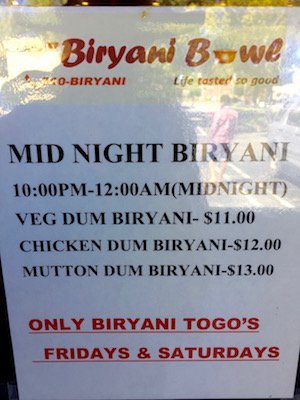 Look around on a Sunday at Biryani Bowl  as the place slowly fills up with customers, a platter of biryani rice is on almost every table..  A line down the middle for pick-up threads through the tables put together for large parties,
So are the Sunday Special Chicken Lillipops.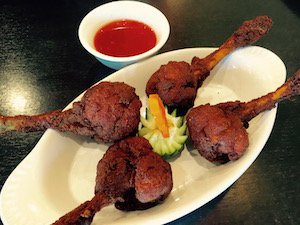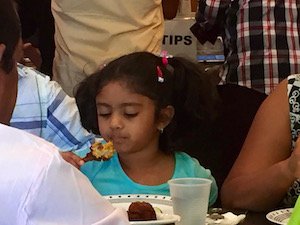 Other specialties available only at Biryani Bowl are the Congura Paneer made with sorrel and it is the only restaurant that offers both Garlic roti.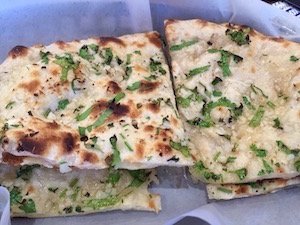 The restaurant purchases a supply when it is in season during the summer season and freezes it for winter months.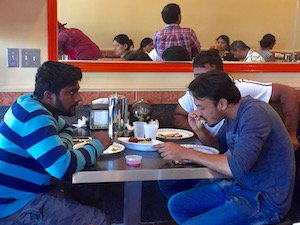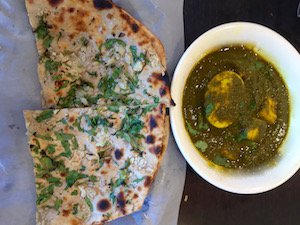 Gulab Jamoon with syrup and cashews is firm and just sweet enough  ($3.53)