Survey Reveals Popularity of Global Culinary Tourism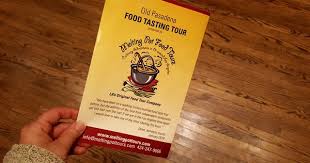 Culinary tourism has become a booming business and travelers are now making food a top priority when planning a trip — no matter the cost.   According to a recent MissTravel.com poll of  their members to determine which travel expense they were willing to spend the most money on, food topped the list.
Results revealed that 46 percent of travelers prefer to splurge on local cuisine rather than paying extra for airfare or accommodations. Having an authentic meal or experiencing local activities could be a once-in-a-lifetime opportunity, and travelers are willing to pay the price. Food festivals like Oktoberfest in Germany or the Melbourne Food and Wine Festival have drawn millions of travelers seeking to engage in local culinary celebrations.
Experiences and Activities came in second with 29 percent of travelers saying they would spend their travel budget on unique experiences and famous attractions. Respondents then chose accommodations and airfare respectively. With the abundance of websites designed to find deals on plane tickets and hotels, it's clear when it comes to these expenses, travelers would rather save a buck.
When 36,928 respondents were asked, " What do you splurge on when traveling?," the answers were:
Experiences / Activities – 29%
"People travel to experience a new destination for all it's worth," said Brandon Wade, founder and CEO of MissTravel.com. "Travelers don't want to spend their precious vacation time in a hotel room, they're seeking out distinctive experiences that offer unique insights into a new culture. Airports and hotel rooms blend together after time but the memories of a delectable dish or the experience of trying something new never fades."
On the flip side, there are many job opportunities in cultural tourism in almost any city because tourism is such a huge and rapidly expanding industry and culinary tourism is becoming a niche market that is experiencing impressive growth.   Tourism is a huge and rapidly expanding industry and culinary tourism is becoming a niche market that is experiencing impressive growth.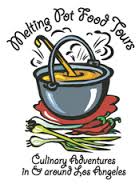 Native Los Angeleno Lisa Scala created Melting Pot Tours with a tour to the Original Farmers Market and a walking tour along the adjacent third street for a mile, stopping in shops and eateries.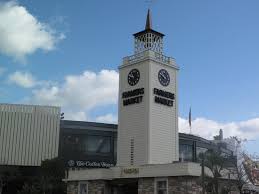 Today her company is the official tour of the Farmers Market.  Her sister, Diane runs many of the tours.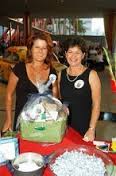 Lisa has also added Hispanic tours and has done a behind-the-scenes tour of Got Kosher? Cafe and Bakery.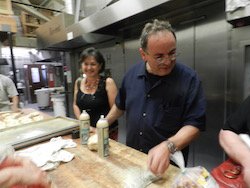 The Got Kosher? Behind the Scenes Cafe and Bakery event began with lunch at 11:00am at Got Kosher Café located at 8914 West Pico Blvd., Los Angeles, CA 90035.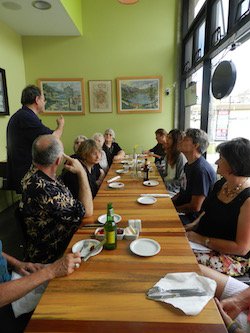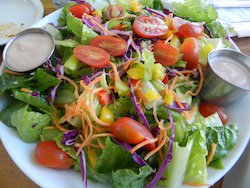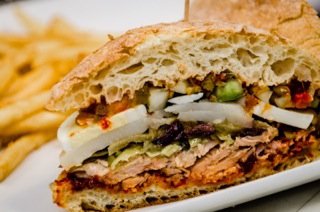 Following lunch the group joined Alain Cohen, chef-owner, in his kosher kitchen for a tutorial on 'What is Kosher?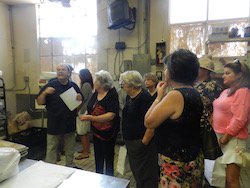 Then a stroll two blocks over for a behind-the-scenes look at the Got Kosher? bakery, now  home to the now famous Pretzel Challah and non-dairy baked goods and pastries.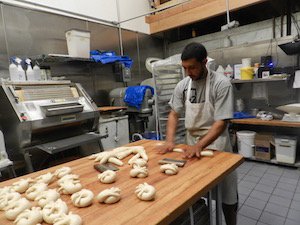 Next door to the bakery, awaited a shopping trip to one of the lively neighborhood markets, each an insider's secret for very inexpensive fresh produce, herbs and Middle Eastern products, including extensive international selections of unique packaged nuts and dried fruits with friendly sampling attendants.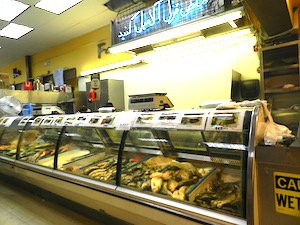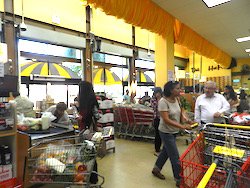 Below famous Thai Chef, Jet Tila, acts as tour guide of Thai town.  It includes the famous indoor market with stalls, and a meal.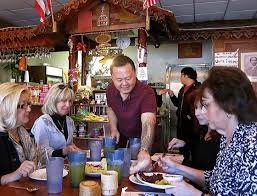 Other sample tours might include a cheesecake factory, an ice cream plant, a ranch or farm and a farmer's market, two or three ethnic groceries and a specialty food store.  Or a brew pub, winery or makers of chocolate, cheese.  Samples given out along the way.
Assistance with marketing tours can be found in www.Shawguides.com, state tourism department.