NRA 2016 Food Survey Says: Ethnic Foods Star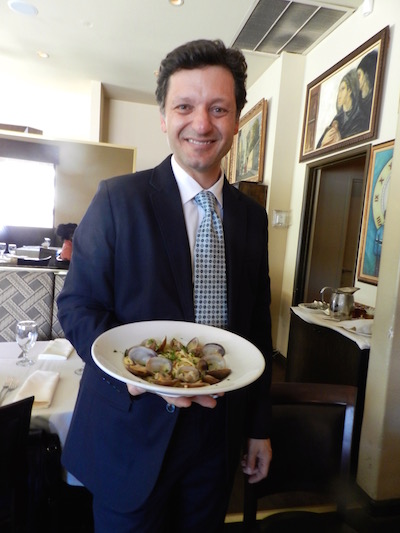 Everyone loves lists, especially at the end of the year. Arriving early is the one compiled by the highly-esteemed National Restaurant Association (NRA), headquartered in Washington, D.C., which annually explores the top food, beverage and culinary menu trends for the coming year from the viewpoint of top corporate chefs. For this year's What's Hot culinary forecast, the NRA surveyed nearly 1,600 professional chefs – members of the American Culinary Federation (ACF) – to learn which foods, beverages and culinary themes will be hot on restaurant menus in 2016.
Ethnic food not only ranks high in the standings, but have been following the same practices for decades and sometimes
Top 20 food trends for 2016:
Locally sourced meats and seafood
Chef-driven fast-casual concepts
Locally grown produce
Hyper-local sourcing
Natural ingredients/minimally processed food
Environmental sustainability
Healthful kids' meals
New cuts of meat
Sustainable seafood
House-made/artisan ice cream
Ethnic condiments/spices
Authentic ethnic cuisine
Farm/estate branded items
Artisan butchery
Ancient grains
Ethnic-inspired breakfast items
Fresh/house-made sausage
House-made/artisan pickles
Food waste reduction/management
Street food/food trucks
According to this year's report, which was just released, some of the growing trends include the following ones that rose by over five percent this year include the following:Authentic ethnic cuisine 14%; Ethnic condiments/spices 11%; Middle Eastern Flavors 11%; Non-traditional liquors 9%; Pop-up restaurants 8%; Hyper-local sourcing 5%; Locally Produced Beer/Wine/Spirits 5%; House-made/artisan ice cream 5%; Artisan Butchery 5%; House-made/artisan pickles 5%; House-brewed beer 5%; Non-traditional eggs 5%.
How does Los Angeles stack up with our focus on a diversity of ethnic cuisines?  Menu items that gained in trendiness since last year's survey include African flavors and authentic ethnic cuisine.  Below is the cart of Certified Pizza Guild master, Peppe Miele, who ten years ago gave up his restaurants after 25 years to teach the art of pizza making.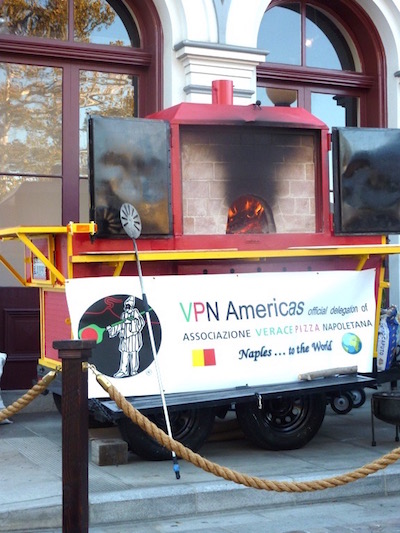 Ethnic condiments/spices are on the list, the pride of hundreds of Indian restaurants in Los Angeles.  Here is a traditional condiment tray of  tamarind; mint and ginger chutney, and yogurt Raita.  Almost all of the finer Indian restaurant owners or chefs travel regularly to India for the spice to freshly grind daily.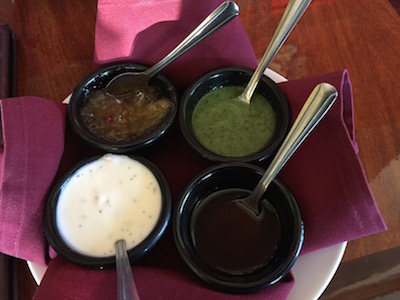 House-made/artisan soft drinks.  Below Janni Andrianos shows off his Lime Olive Water.  The olives are imported from Greece.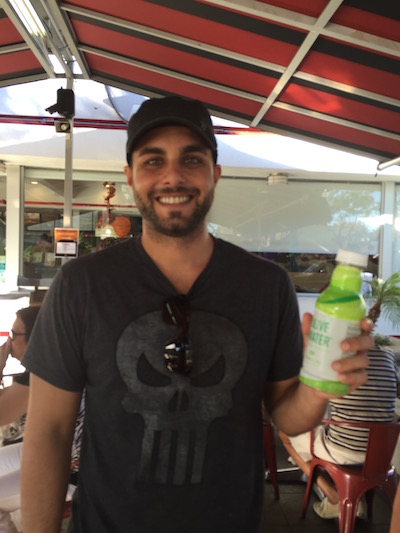 Janni is the son of Deno Andrianos, who with his brother, Andrew, celebrate 30 years in their fast service, Astro-Burger location.  The Andrianos brothers introduced the Garden-burger to Los Angeles, and will feature Piedmontese beef once a week in 2016.

Middle Eastern flavors rose 11%.  Pictured below is Got Kosher? Cafe's  Shakshouka and North African (Tunisia) Artichoke Beignets.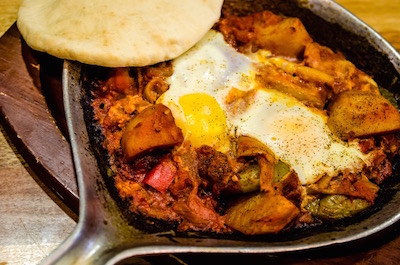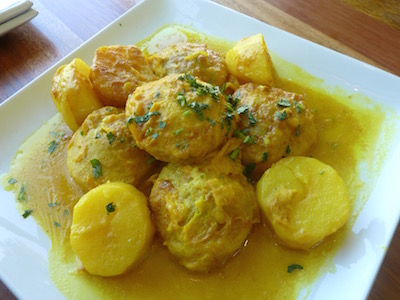 Items that lost momentum include underutilized fish, kale salads, fresh beans/peas, gluten-free cuisine , quinoa and flower essence in cocktails.  Below is a drink from Chino Hills Pub with fresh watermelon fruit and mint that replaces flower essence.
 Top 20 food trends for 2016 locally grown produce; Hyper-local sourcing and Natural ingredients/minimally processed food.  Below is the Marino Ristorante antipasti platter which has followed this trend for a half century.
Authentic ethnic cuisine is also given a new, luxe home at Spice Table on Restaurant Row, La Cienega.  Here is an unusual Basmati Rice "pie."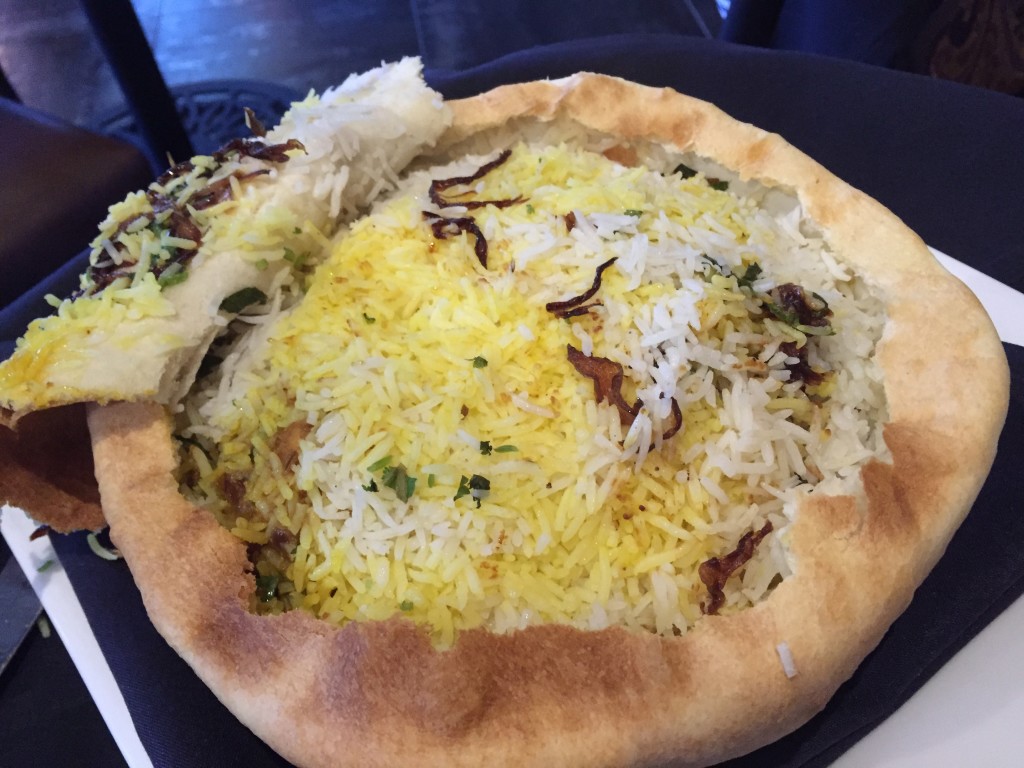 Ancient grains are high on the list.  Below is Got Kosher? catering company's popular cous cous.  Cous Cous has been so wildly popular in France since French soldiers returned with it from Tunisia and Algeria that Cous cous restaurants are as popular as pizza places in the U.S.  The grain started to catch on in America about a decade ago.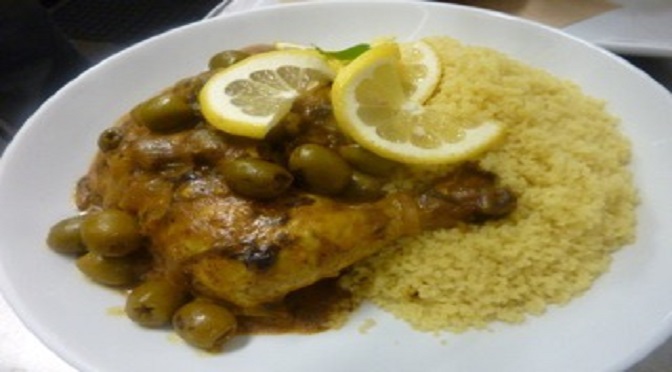 Ethnic-inspired breakfast items are becoming more and more popular.  Below is a popular South Indian breakfast dosa, that comes in many versions and stars at the popular Annapurna and Mayura restaurants.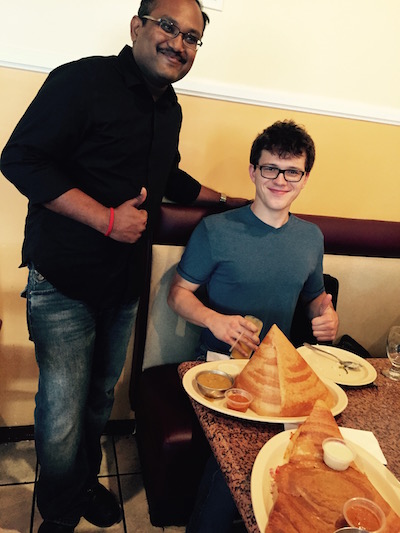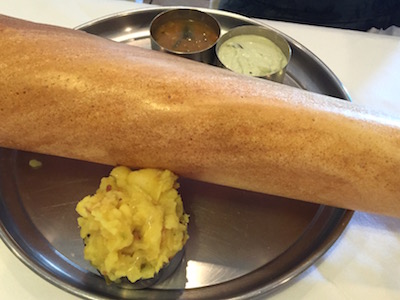 Street food/food trucks are another rising trend — the gourmet food truck craze began in Los Angeles.  Here is the popular YALLA TRUCK serving up Mediterranean food.  Service is also key and starts at the top with Alan Karam.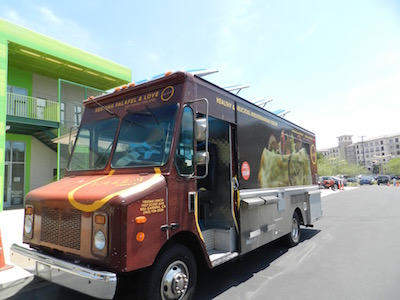 Locally Produced Beer/Wine/Spirits rose 5%.  Below is an array of the artisan beers at Torrance Tavern, right in the heart of the beer brewery trifecta in Torrance, California.
According to an NRA spokesperson, "The report addresses emerging foods, beverages and culinary themes to give a glimpse into the future of the restaurant industry. The NRA surveyed 1,575 American Culinary Federation members in September 2015, asking them to rate 221 items as a "hot trend," "yesterday's news," or "perennial favorite" on menus in 2016.
"True trends evolve over time, especially when it comes to lifestyle-based choices that extend into other areas of our everyday life," said Hudson Riehle, Senior Vice President, Research & Knowledge Group at the National Restaurant Association. "Chefs and restaurateurs are in tune with over-arching consumer trends when it comes to menu planning, but add their own twist of culinary creativity to drive those trends in new directions. No one has a better view into the window of the future of food trends than the culinary professionals who lead our industry."
Founded in 1919, the National Restaurant Association is the leading business association for the restaurant industry, which comprises 1 million restaurant and foodservice outlets and a workforce of 14 million employees. We represent the industry in Washington, D.C., and advocate on its behalf. We operate the industry's largest trade show (NRA Show May 21-24, 2016, in Chicago); leading food safety training and certification program (ServSafe); unique career-building high school program (the NRAEF's ProStart); as well as the Kids LiveWell program promoting healthful kids' menu options. For more information, visit Restaurant.org and find us on Twitter@WeRRestaurants, Facebook and YouTube.
The American Culinary Federation, Inc. (ACF), established in 1929, is the standard of excellence for chefs in North America. With more than 17,500 members spanning nearly 200 chapters nationwide, ACF is the leading culinary association offering educational resources, training, apprenticeship and programmatic accreditation. In addition, ACF operates the most comprehensive certification program for chefs in the United States, with the Certified Executive Chef®, Certified Sous Chef®, Certified Executive Pastry Chef® and Certified Culinary Educator® designations accredited by the National Commission for Certifying Agencies. ACF is home to ACF Culinary Team USA, the official representative for the United States in major international culinary competitions, and to the Chef & Child Foundation, founded in 1989 to promote proper nutrition in children and to combat childhood obesity. For more information, visit www.acfchefs.org. Find ACF on Facebook at www.facebook.com/ACFChefs and on Twitter @ACFChefs.
"