Thirty Years of Award-Winning Classics at Taj Mahal, Encino
Glassed-in Taj Mahal, awarded Best Indian Restaurant in Encino many times over, sits on the second floor overlooking the hills, with an outdoor patio for good weather day dining. It is a light, airy, pretty dining room with graceful salmon cloth napkins on turquoise over white tablecloths.  It is a must try not only for Indian food lovers, but all food lovers.
What distinguishes Taj Mahal is that for 30 years, owner and trained chef, Dev Singh, has been presiding over the kitchen preparing Indian classics and pleasing guests in the dining room of the casual restaurant every day.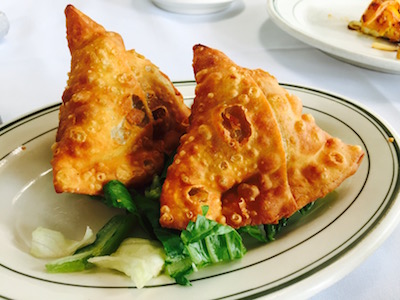 Even on a torrid day, the cool room and memorable "hot" dishes show why Taj Mahal Restaurant has earned its reputation. The written menu reads clearly and almost too simply.  It doesn't begin to detail the layers of flavor and detail that go into every dish, starting with the crusty meat samosa pastries bursting with perfectly seasoned minced lamb, herbs and peas.
Mango and Corn Soup – with a cherry on top – is a Southern Indian dish and came from a family recipe. It is a traditional soup or shorba for Ramadan or marriage feasts  in Southern Indian cuisine that originated in Persia.  Cherries have become a signal for dishes originating in haute-Persian cuisine, which often incorporate exotic fruits.
The combination of sweet and regular corn make the soup unique, over a cream base spiced with cardamom and a very subtle touch of chili. As in Mango Lassi, mango pulp gives body to the soup, which already, just from reading a few of the ingredients, gives an idea of how flavorful it will be.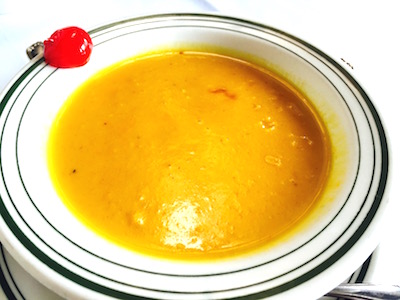 Rogan Josh, the dish with the fascinating name, also originated in Persia.  It is one of the best, if not the best versions in Los Angeles, and is outstanding with lamb chunks cooked in tomato, onions, ginger, garlic herbs and spices.   Crisped onion slivers top the dish for a fun texture, also adding a pretty note to the  cilantro sprinkled on top.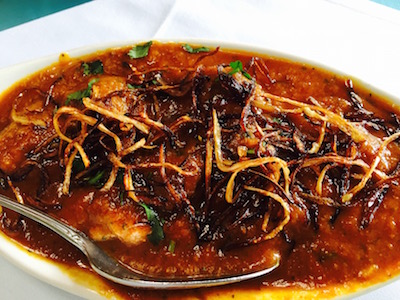 Fish Tikka Kababs are another highlight, light yet hearty. Melt-in-your-mouth, fresh Chilean sea bass is marinated in yogurt and seasoned with cardamon, cinnamon and herbs,  seared and served with a slice of lemon and onion slivers.  Dev Singh has searched out the highest quality, local fish and seafood purveyors supplying Taj Mahal for decades.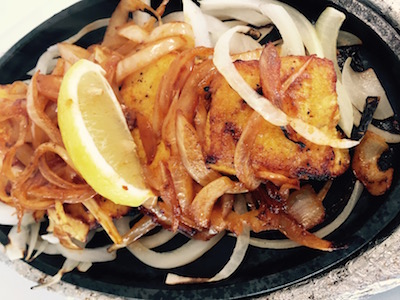 Curried Mussels are a distinctive seafood dish, bathed in a beautiful saffron-color garlic curry that contrasts with the sprinkling of cilantro over them. The Garlic Oregano Naan and Garlic Chili Naan, two of 12 Tandoori Breads freshly baked in the Clay Oven, are perfect to sop up every bit of the rich sauce.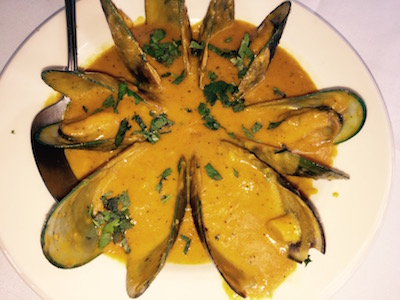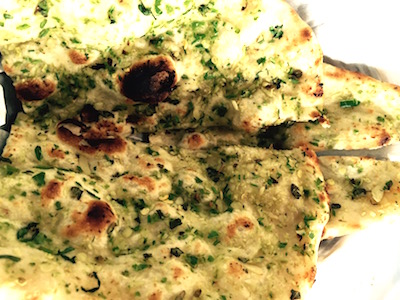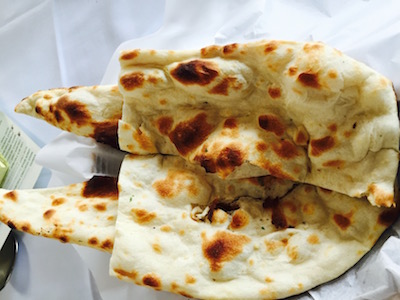 One good food dish as a standard bearer in an Indian restaurant is the popular Saag Paneer, homestyle cheese, cubed and cooked with spinach and herbs. At Taj Mahal, the colors and flavors the fresh spinach are lovely and clear.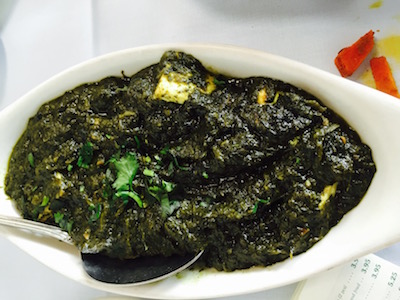 In addition to ordering from the menu, a lunch buffet at the front of the room features practically prices dishes in chafers with gaily-colored napkins tied to the cover lids matching the tablecloths and napkins in the rest of the room.
Taj Mahal is one of the hundreds of restaurants along Ventura Boulevard but it stands far out among all the others with consistently outstanding food and service.  Accolades earned by Taj Mahal are from top professional print publications, such as first billing in the,  "Top Ten LA Weekly Dining."  The keen international ethnic food writer Max Jacobson wrote, "Taj Mahal makes it with room to spare onto the 'A' list.
Taj Mahal (Tajmahaldining.com), 18715 Ventura Boulevard, Encino, CA 91316. (818) 345-2244.