Tonnino Tuna: The Wild Underbelly is the Best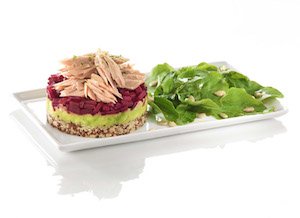 (Gerry Furth-Sides) Tonnino Gourmet's little glass jars even gleam in a special way to catch the light so you know there is something extraordinary in them.  This is a new kind of tuna at the table,  rich in a bath of olive oil or in clear fresh water.  At a time when there are so many cautionary tales about eating fish, it is welcome.  The tuna tastes like it was just caught minutes ago.

It is 100% yellow fin fillets, caught in the wild and jarred by hand,  rich in Omega-3s with the lowest mercury levels possible. Committed its environmental responsibility, each jar is dolphin-safe
Utilizing only the freshest, high quality ingredients, Tonnino offers eight innovative flavor varieties, including its award-winning Tuna Ventresca. Each jar contains only the finest cuts of tuna for exceptional appearance, texture, and taste.
Tuna's versatility, healthy reputation and light flavor has long been a staple in the American pantry: drained albacore  is always a welcome choice and the American way is to punch it up with mayo and seasonings that slipped into family-favorite traditional salads, sandwiches, and casseroles. My mom used to chop up apples and celery and stud the tuna with it for a delightful crunch.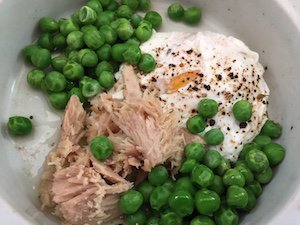 These days (above) a festive brunch dish may be poached egg, peas and Tonnino tuna – a few dots of hit chile sauce on the plate punch it up even more.  It is the definition of sophistication and convenience.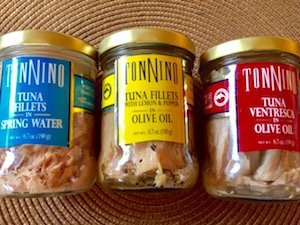 Tonnino's classic, Italian-style, yellowfin is soaked in the purest olive oil to highlight the taste of the fish and not overpower it to enhance your favorite recipes.For an even lighter and natural flavor, Tonnino's low-fat fillets are submerged in spring water to elevate any healthy salad.Tonnino's award-winning tuna ventresca in olive oil is the finest cut of underbelly—the royalty of its gourmet jarred tuna.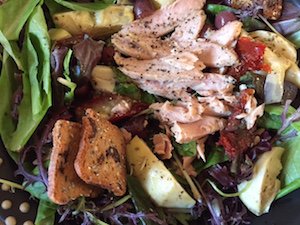 People are fast learning to taste with their palate and their conscience, becoming increasingly aware of where their food comes from and that its production is socially and environmentally responsible – and safe.  Tonnino can certify and guarantee that fishing has not harmed any other species, only selecting small sized yellowfin tuna with low levels of mercury.
Sumptuous and sophisticated, Tonnino ranks there with gourmet brands, which uses hand-caught 100% yellowfin fillets. Tonnino is renowned for crafting exceptional cuts that are as rich in Omega-3s as they are in flavor.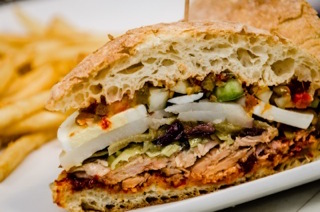 Tonnino Tuna Ventresca is considered the best and finest tuna cut in the market.   It is sourced in the wild and contains only the freshest slices of underbelly. Hand-filleted, dipped in pure olive oil and with a singular, silky appearance, taste and texture, it can be go from jar to plate in a multitude of recipes, from a delicate niçoise salad to a good, old-fashioned sandwich.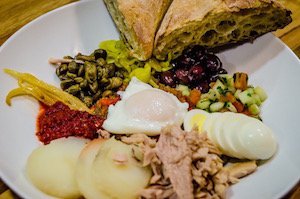 With gourmet quality that did not go unrecognized, Tonnino Tuna Ventresca was presented with the Superior Taste Award in August of 2014.  An achievement granted by a jury of 120 international chefs and sommeliers, the Superior Taste Award is given to food and beverage products that hold a high standard of excellence. Each product is blindly reviewed and scored on its overall feeling of hedonic pleasure and sensory analysis. \
Recognized for its excellence in each category, Tonnino's Tuna Ventresca is one of the 74 products marked for having the best quality and taste all over the world.
"Receiving the Superior Taste Award affirmed that we accomplished what we set out to do – provide a product that is a feast for the senses," said Antonio Esquivel Carrillo, Tonnino's Country Manager. "The most exceptional delicacies should excite you before you even take a bite, and our tuna is recognized for doing just that. We consider this a personal triumph just as much as we do a professional one."
Tonnino's classic, Italian-style, yellowfin fillets soaked in the purest olive oil, offers filters tropically-grown herbs and spices, ideal for pasta and pizza.  With just hint of spice, tuna fillets with jalapeño lend themselves well to Latin dishes.
Tonnino Tuna is available at Publix, Whole Foods, Fairway, Central Market, Wegmans, etc., and costs $7.99. For more information, readers should visit www.tonnino.com