Top Catering Chef's St. Patrick's Day Dinner at Home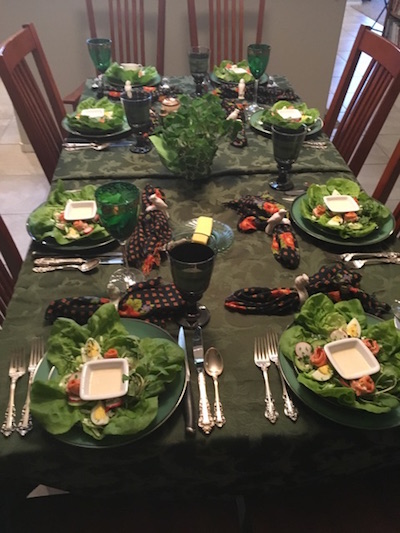 (Roberta Deen) My sister and I are half Irish on my father's side, from where and when we don't know because family history was just never spoken about.  We do know that at least three generations back.  This past summer I had a chance to visit the Emerald Isle (below).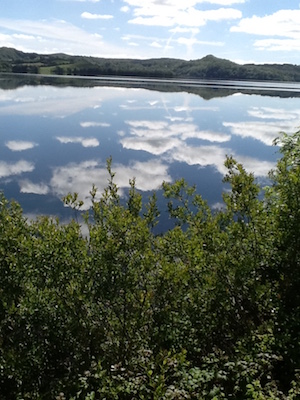 The family landed in the middle of Texas as part of a Spanish land grant. I had always wondered about that, but only discovered the tie with the Irish and Spanish in Elizabethan times on my first trip to the "old country" last year.  My brother-in-law is full Irish and carries the famous name of Kells from the beautiful illuminated Book of Kells – an Irish historical treasure.
However, it was only yesterday, that I discovered that the "wearing of the green" was wrong for us! We are Protestant which makes us "men of Orange" and the north of Ireland.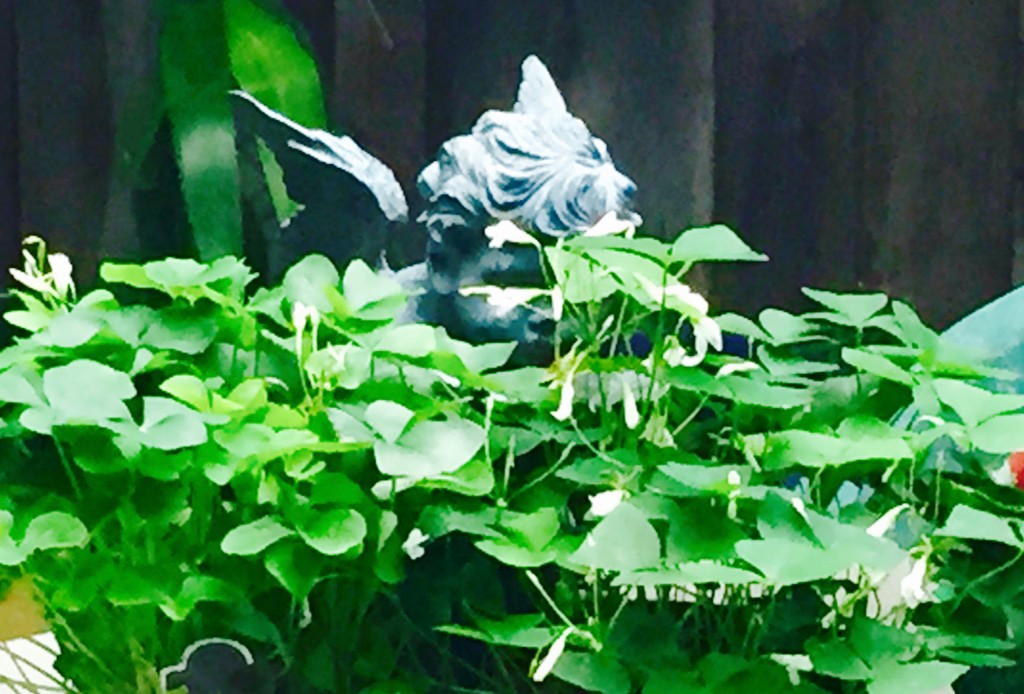 I also learned that the dinner that has come to represent and honor St. Patrick was originally an Easter meal. The beef had been "corned" at the beginning of winter and came ready for the spring celebration.  Cabbage, carrots and potatoes are winter crops but the spring lettuces, scallions, radishes and herbs are just ripening as well. "One foot in winter and one foot in the promise of spring."
I found the Irish music channel on the tv to set the mood.  I placed the shamrock plant in the center of the table (where as the evening progressed, the plant slowly closed its leaves and went to sleep!), put out the good silver and went to work on the meal.
First course was an Old-fashioned Country Salad with Shanagarry Cream Dressing. I added Wild-caught salmon roses finished with fragrant, flavorful San Francisco Salt Co. Cherry Smoked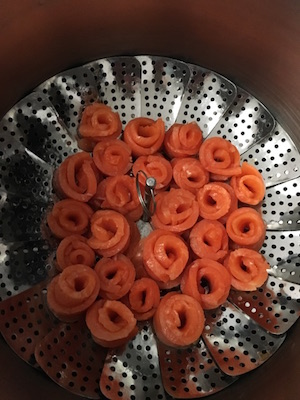 Sea salt to honor the famous Irish salmon.
Crisp, living butter lettuce leaves, peppery watercress, Cage-free egg quarters, sliced radishes and hot-house cucumbers, freshly pickled beet slices, all with a dusting of finely chopped parsley and egg white.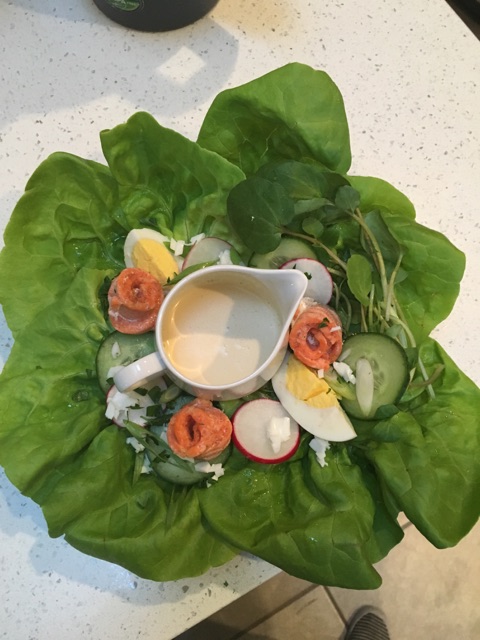 The dressing, placed in the center for self-service, is an old-school, sprightly blend of sieved egg yolks, a touch of soft brown sugar, dry English mustard, a pinch of salt, malt or white balsamic vinegar and, of course, heavy cream to finish. Tart, sweet, crisp and buttery all in one bright spring medley.
The meal itself was just as old-fashioned.  Long, slowly simmered point-cut corned beef, three hours on the stove top, with water (although some would use Stout or Guiness), carrots and onions steeped in spices until fork tender.  The meat comes out to cool and be sliced.  The carrots and onions, well cooked unlike today's tender crisp, scooped out and dressed with a bit of the broth.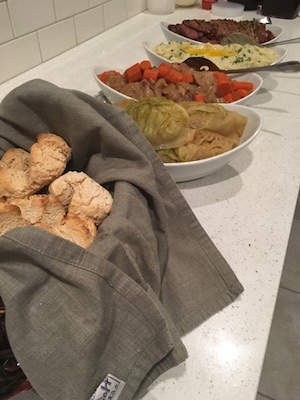 The cabbage, a quarter of a small cabbage per person, goes in to simmer until well-past Al dente, and on to smooth and soft texture to serve.  All of these vegetables were served with the important "Champ" – russet potatoes cooked in their jackets, peeled and mashed with finely chopped green onions, milk and Kerrygold Irish Butter, then liberally seasoned with crushed Irish flake sea salt and freshly ground pepper.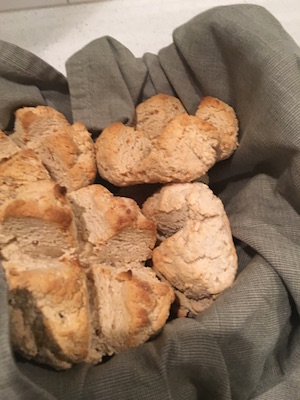 Because my sister is diagnosed celiac, I risked making classic soda bread with Red Mills, One-to-One gluten-free flour and made individual loaves.  The results were impressive.  They rose well, baked to a nice crust, and a firm crumb. (I just learned that you must quickly wrapped the bread in a towel as it comes from the oven to keep the crust from becoming to hard.) The soda bread was served with more of the rich tasting Kerrygold butter.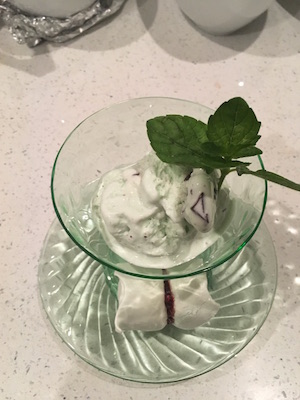 Guests after the hearty main course described the Dessert as "light and delightful." I was pleased with it as well. I used a perfect meringue recipe from The Complete Book  of Irish Country Cooking by Darina Allen called Mrs. Ray's Meringues to make small individual meringue cookies. These were delicately tinted pale green, dished out with a 1-ounce ice cream scoop, slowly baked at 200 degrees for four, long hours and left to sit in the oven overnight.  I was so enthralled and happy with the results that I kept turning the light on in the oven to admire how well they held their shape, never budging or browning.  When it was time for dessert to be served, I sandwiched two of the miniature puffs together with a smear of slightly tangy, not too sweet Irish raspberry jam that I had brought from my trip.  There was a scoop of mint chocolate chip ice cream in my collection of pale green depression coupe glasses, a garnish of mint leaves and just one pair of The meringues to make a light and perfect end to the meal.
Roads rose to meet us, the wind was at our backs and all was well on this tiny patch of the old sod!