Top Food Film: My Bakery In Brooklyn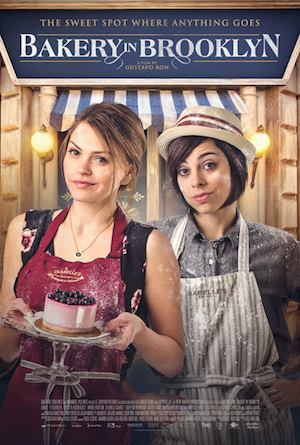 Directed By Gustavo Ron and written by Francisco Zeegers and Ron, My Bakery in Brooklyn ( 100 minutes) has all the ambitions of an Umbrellas of Cherbourg and almost reaches it.
Vivien and Chloe, two cousins living in Brooklyn, have been inseparable ever since they were children.  Their aunt (Linda Lavin) is the owner of a not particularly profitable quaint Boulangerie in a Brooklyn neighborhood changing from elderly residents to young hipsters.
This is reflected in the two cousins.  Vivian is a proponent of the classic style of baking and Chloe is more insistent on updating the shop.
Auntie dies suddenly, just as Vivien is about to embark on her dream trip to Europe.  She stays behind  to help run the shop with Chloe, a chef's assistant for a popular daytime cooking show, who feels they should put a modern spin on things.
To complete the picture, the bank reveals that the Boulangerie is in danger of being foreclosed – the news delivered by a  handsome young man  attracted to Vivien, the two decide to preserve their family's legacy.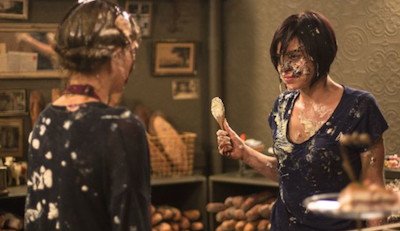 The opening scene shows a food fight, going back through flashback to  they split the shop in half with a blank line in the middle and each runs her business as she sees fit. Things heat up as they're forced to fight over every customer who walks in the door.
The pieces are there and in a manner of deus ex machina Lillian and Chloe  learn to subdue their differences and work together as a team in order to save the bakery and live happily ever after.
CAST
Aimee Teegarden
Krysta Rodríguez
Ward Horton
Blanca Suárez
Linda Lavin
TRAILER: https://youtu.be/r7hAWF4achI
Download: https://vimeo.com/195719419