Top Peruvian Chef Ricardo Zarate's Mamacita Honors "Mom"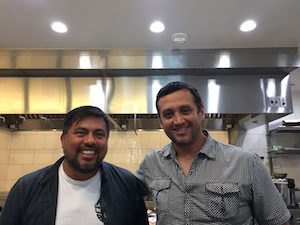 (Gerry Furth-Sides) Chef Ricardo Zarate's robust, refined, beautifully seasoned Peruvian cuisine Mamacita's Peruvian Cafe is as lofty, complex and substantial as the Peruvian coast mountains and as lighthearted and music as the Peruvian flute.  Here he is with welcoming, efficient manager, Alex.  It makes his casual menu of what critics term, "inspired" wraps and salads, worth the drive to bustling Hollywood & Highland center.  Even parking in the lot is now easy!  A Melrose location is soon to open.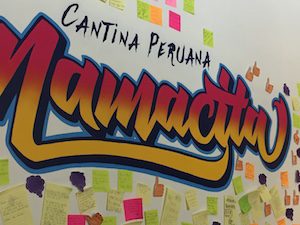 Chef Zarate's  happy cuisine is a mix and match of solid choices, such as  Quinoa bowls filed with farmer's market fresh ingredients topped by a choice of protein.    Colorful local street art adorns the walls, and one sort of community wall even holds cards on which customers wrote notes about their visit.
It is the perfect place to celebrate in a casual style.  Below Chef Ricardo helps celebrate Chef Kimmy Tang's birthday.  LA influencer and international food writer, Andrea Rademan, has supported them both with group dinners throughout their illustrious careers.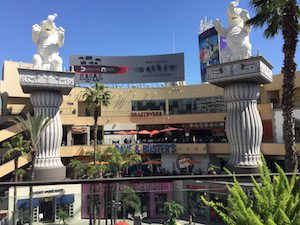 Mamacita is located on level four next to Trastevere Ristorante Italiano.  Think of the walk as a way to burn off all the calories from the Hollywood Boulevard sidewalk or the parking lot.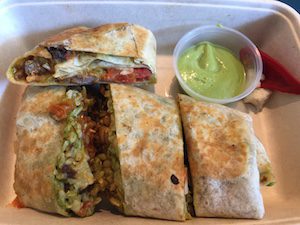 Chef Ricardo's breezy  high energy Latin concept  of rice, salad or quinoa bowls are straightforward fare, topped a choice of proteins.  It is the subtle, complex and sensational seasonings and cooking preparation that set them apart.  The chef shops the farmer's market for ingredients and the kitchen makes every dish from scratch.  You can watch them at work from the common tables out front.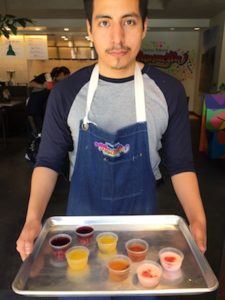 While you are pursuing the menu, drinks are offered.  They include a cinnamon-spiced beverage with pineapplePurple corn chicha and Sweet barley with lemongrass and lime.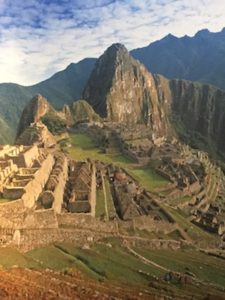 Affable, long-time Los Angeles favorite, Ricardo, offers  refined, homey Peruvian dishes at Mamacita Cantina Peruana that diners would also find in Lima, Peru.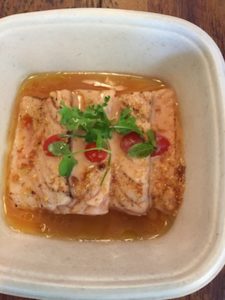 For fish lovers like myself,  Salmon  Tiradito (Peruvian sashimi).  Coastal Peru is famous for fish, even growing most of the world's supply of anchovies.  The Tiradito, accompanied by crispy quinoa, becomes a light but substantial dish that holds up in any season.   Chef Ricardo creates the sauces with  aji amarillo and rocoto Peruvian peppers.  To incorporate an Asian flavor, adding a subtle touch of tantalizing sesame oil and ponzu sauce.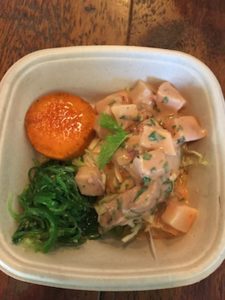 Another heavenly fish dish is the Peruvian Salmon and Yellowtail Ceviche (fish "cooked" by way of acidic juices).  The light yet satisfying plate of fish sits atop a bed of choclo rice (dotted with corn  kernels) and adds the side balancing notes of seaweed and a colorful, luscious sweet potato.  Peruvian rocoto chiles spices the tangy sauce.  and a garnish of pickled ginger and crispy quino. Peru has over 400 kinds of potato and a potato always accompanies ceviche – – a sort of French Fries to a burger.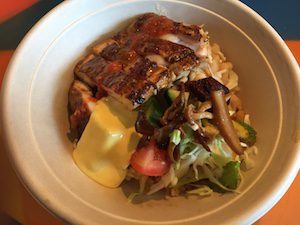 Estofado as Chef Zarate defines it adds an almost buttery tender short rib.  The  huancaina (cheese) sauce prepared out of Peruvian cheese makes the meat even more silky, all of it nestled on a bed of Peruvian style beans and rice.   Chef Zarate explained that the meat cooks slowly in one piece with tomatoes and two kinds of Peruvian chiles–aji amarillo and aji panca before plating the individual sections of meat.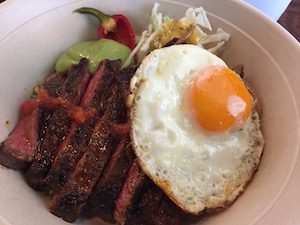 Parrillada, Peruvian BBQ skirt steak,  arrives with a tomato sofrito, salsa verde picante, quinoa and cannelini beans and wears a sunny-side up egg "hat."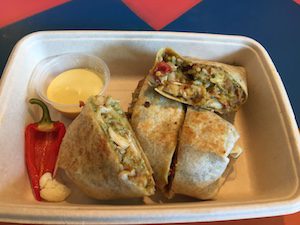 Bowls of Salads and wraps have their own sections on the menu. This Portobello wrap is mixed with  green rice, kale, pickled beets is dressed in a vinaigrette made with Peruvian chilies and served with a yogout dressing to balance it out.
Ricardo named the small cafe for his own "mama," " Mamacita" being an affectionate term.  Chef Zarate also honors his mom in name at his upcoming contemporary Peruvian restaurant on Melrose Avenue in West Hollywood,  "Rosaliné."  This is fitting since Chef Zarate's inventive style of cooking retains the traditions he learned from mother as a child and growing up.