Top St. Patrick's Day Picks for Drink and Eats in LA
 Birds & Bees
At Birds & Bees, Bar Manager Bethany Ham created for toasting  The Irish Grasshopper ($8) cocktail.    Ham does her own take on the ubiquitous Irish Coffee by blending hot coffee with Jameson Black Barrel whiskey, sugar, Amaretto cream, and dark chocolate shavings to make the prefect cocktail.
 Birds & Bees hours:  5:00 pm to 2:00 am; 207 South Broadway, Los Angeles, CA, 90012; www.birdsandbeesla.com  
  Hyperion Public Silver Lake & Studio City
Irish Executive Chef Paddy Aubrey's HP19 Corned Beef shines on St. Patrick's day.  His owned beef sandwich also features Swiss cheese, spicy Russian dressing, bacon coleslaw, on toasted rye bread.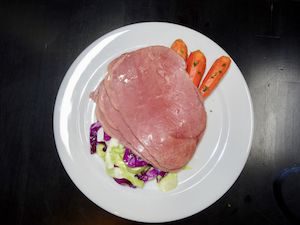 The House-Cured Corned Beef  used sautéed cabbage.  The chef's Chicken Boxty, an Irish potato pancake with a chicken mushroom cream sauce is also being offered.
Guinness and Jameson Irish Whiskey for just $12 is perfect to wash it down or go it alone.
 St. Patrick's Day, Friday,   The Community Pub will be open from 4:00 pm to 2:00 am; Hyperion Public Silver Lake: 2538 Hyperion Ave., Silver Lake, CA, 90027; 323-761-6440; Hyperion Public Studio City: 12969 Ventura Blvd., Studio City, CA, 91604; 818-464-3750;www.hyperionpublic.com
The Raymond 1886:
We think any day is a good one to celebrate anything at the  The Raymond 1886.   The historic, cozy craftsman cottage in sunny Pasadena already has everything you need to ring in the Irish holiday, beginning with a specialty St. Patrick's Day, cocktail from Head Barman Peter Lloyd-Jones. The Tipperary is crafted with Tyrconnell Irish whiskey, Green Chartreuse and Carpano Antica.
The Raymond 1886 will be open on St. Patrick's Day for Lunch from 11:30 am to 2:30 pm andDinner from 5:30 pm to 10:00 pm, with 1886 Bar remaining open until 2:00 am; 1250 South Fair Oaks Avenue, Pasadena, CA 91105; 626.441.3136; www.theraymond.com
Haché LA
Haché LA, 's special Shepherd Fries, made with triple cooked fries are topped off with meat, carrots, peas, and corn can stand alone and up to beer or sports or as a pairing for their extraordinary burgers. As for the liquid gold (in lieu of a pot of gold), Green Craft Beer comes in the form of Mama's Little Yella Pils by the glass or a pitcher
Haché LA will be open on St. Patrick's Day, Friday, March 17th, 2017 from 11:30 am to 12:00 am; 3319 West Sunset Blvd, Los Angeles, CA; 323-928-2963; (www.hachela.com)
Everyday is a celebration at the Venice Whaler at the beach so for St. Patrick's Day, food and drink specials and surprise giveaways to the first 100 guests to arrive have been added. Executive Chef Nick Liberato's  made Shepherd Pie  for this special occasion.  It is filled with seasoned meat, tomatoes, carrots, celery, onion and then topped with whipped potatoes and browned ithe oven for $14.
Pair this or any other dish with any of the Venice Whaler's St. Patrick's Day drink specials including Miller Light Drafts with a Complimentary St. Paddy's Day Cup, a Guinness + Irish Whiskey Special for $10, Tullamore Dew Irish Whiskey Shots for $5, and traditional Guinness Pints for $7.
The Venice Whaler will be open on St. Patrick's Day, Friday, March 17th, 2017 from 11:00 am to 2:00 am; 10 West Washington Boulevard; Venice, CA 90292; 310.821.8737; www.venicewhaler.com
The Hudson in WeHo
Continuing the celebration on St. Patrick's Day weekend, The Hudson offers their signature Bloody Mary will get your "morning after" started.   The Hudson's Avocado Toast with fresh greens and herb flecked potatoes carries the theme over in a healthy way.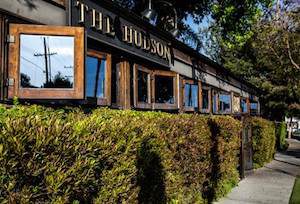 And the charming little location that is reminiscent of an Irish countryside, The Hudson will also offer $9 specials for a pint of Guinness and a shot of Bushmills in honor of the day.  The Hudson is well known for drinks, beers & American comfort food on a patio or in a dining room with a tree growing through it.
 The Hudson, 1114 N Crescent Heights Blvd, West Hollywood, CA 90046, 4 PM – 2AM., (323) 654-6686  (www.thehudsonla.com)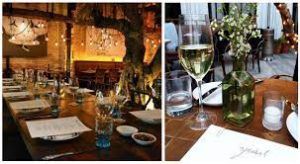 And if you're in the neighborhood for brunch, another charming option is at the sleek, historic
Ysabel.
 There Executive Chef Alison Trent cooks up an 
Irish Breakfast of Two Eggs, Sausage, Bacon, Baked Beans, Roasted Tomato ($22).  
Perfect after a night of celebrating, listed among the long selection of brunch cocktails at ($12) are an invigorating
House Bloody Mary ($) 12
and a
Cold Irish Coffee – Jameson, cold brew, brown sugar, house whipped cream ($12)
Ysabel
, 945 N Fairfax Ave, West Hollywood, CA 90046, (323 – 366 – 2940),  
(www.ysabel.la)