THE TUSCAN BLEND BY ORLY for Cinco de Mayo Quesadillas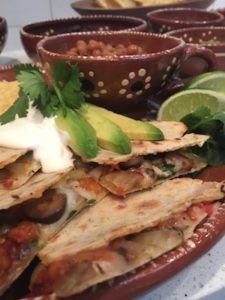 TUSCANY blend, naturally, is for preparing artisan white breads, pizza crust, flat breads and more.  I used the Tuscany to make flour tortillas which my own celiac sister had been craving and which were not as widely available in stores as they are now.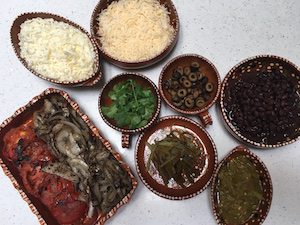 The flour tortillas that I made were based upon a recipe from a cooking trip with Diana Kennedy in her home in Mexico. I have adjusted the ingredients to gluten-free flour by adding a bit more liquid and spices. The recipe makes 12 – 6" tortillas.
Mise en place for tortillas
8 ounces Tuscany Blend (2 cups, sifted, spooned into measuring cup and leveled)
1 teaspoon table salt
1 teaspoon Sazonador Picoso (available in the Latino aisle of most grocery stores)
½ teaspoon paprika
½ teaspoon crushed dried oregano
Whisk together in a medium-large bowl.
6 Tablespoons shortening (I used buttery yellow Crisco)
Cut into flour mixture with a pastry cutter or your fingers until the mixture resembles coarse meal
1 to 1-1/4 cup warm water (using carrot, beet, or spinach juice instead of water will add color)
With a large fork, stir in 1 cup of water gently, pulling in flour from the outside and
blending into the middle. Add additional water by the tablespoon until you
have a moist dough
Knead for 3 minutes or so until you have achieved a smooth, soft ball.
Place in a bowl and cover with plastic wrap.  Let rest for 2 hours at room
temperature while you prepare the fillings for your Quesadilla.
Arrange the following items on serving platter or in small bowls while the dough rests.
2 mild Anaheim chilies, or other peppers of your choice
Roast over an open flame on the stove top until the skin is blackened.
Place the peppers in a plastic bag, steam 5-10 minutes to loosen the skins
Remove the charred skins and the seeds
Cut the chilies into long thin strips and set aside on a serving platter.
2 large tomatoes
2 yellow onions, peeled
Slice the tomatoes and onions thickly
Sear the tomatoes in a large dry skillet (I used cast iron), turning them carefully,
until lightly charred. Remove the tomatoes to small serving bowl
Add the onions to the same skillet, searing until nice and browned with a good
char and caramelization. Remove to serving dish.
1 – 15 ounce can seasoned black beans, drained
1 – 4 ounce can diced Hatch chilies, mild, drained
8 ounces shredded Cacique Four Cheese Blend (Manchego, Oaxaca, Asadero,
Quesadilla) or cheeses which you prefer
Mexican crema or regular sour cream
Sprigs of cilantro
Sliced or diced avocado if desired
Take the rested tortilla dough and cut it into 12 equal wedges
(Weigh each ball to get an even set of tortillas or just go for it.)
Roll each ball out into fairly thin 6" rounds or use plastic wrap and a tortilla press.
Lightly sear in a dry skillet, moving the tortillas to prevent sticking and turn once.
Keep warm in a clean tea towel in a low oven as you complete the 12 tortillas.
Lay one tortilla down on 6 plates, top with cheese mixture and invite each guest
to top the cheese with their preferences from the condiments or assemble
as you desire.
Top with a second tortilla, maybe a dollop of sour cream or cheese and head for
the table.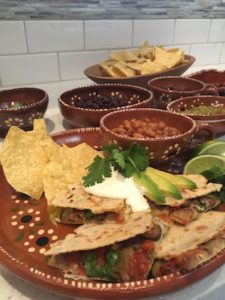 These hearty "quesadillas" are definitely "knife and fork" eating and very filling.  Add a salad and enjoy!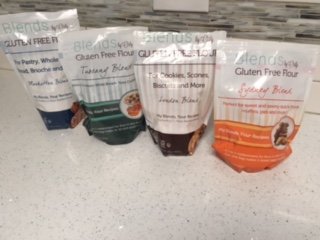 Note: Testing the Blends By Orly gluten-free flours has been an absolute delight.  Each one is cleverly named after one of the great cities of the world. Orly Gottesman went to work in a bakery to learn recipes to give her husband back his beloved pastries, found she liked the work, became a baker, opened a bakery and developed these blends to give a proper taste to gluten-free home baking. Although each blend contains nearly the same ingredients, the mixtures are designed with the proportions needed to give the correct balance for a certain outcome.
The entire line is usable 1:1 in place of regular wheat flour. Each 20 ounce bag comes with a recipe on the back and more recipes are available from the website – www.blendsbyorly.com. The production of Blends by Orly is impeccable – gluten, tree nut, dairy and corn free and all natural. I recommend this brand of flour blends to all true celiacs and to the people who love them. The product is packaged in zip-top heavy-duty bags that extend the shelf life of the flours.