Rare Southern Fare at Annapurna Indian Vegetarian in Culver City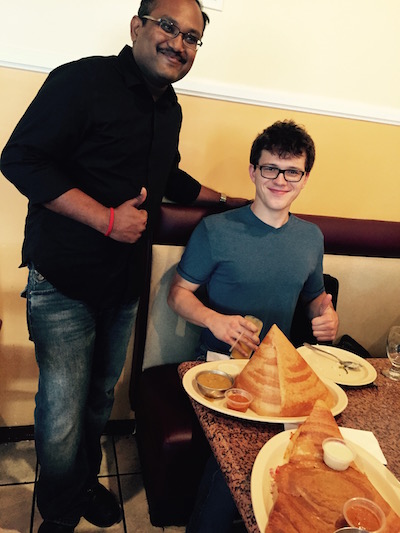 (Gerry Furth-Sides) Dosas in all their glory have a starring role in Annapurna Southern Indian Vegetarian Restaurant's new menu.  They are so much fun, so satisfying that carnivores won't notice the absence of meat. The Culver City restaurant, acclaimed as one of Los Angeles' best Indian restaurant, may be named after a mythical angel, and one of the most revered, treacherous Nepalese mountains in the world but earthly comfort food is key here.   In a more urban take, Annapurna offers 5 Cocktail Uthappams of the chefs sauce served with channa curry.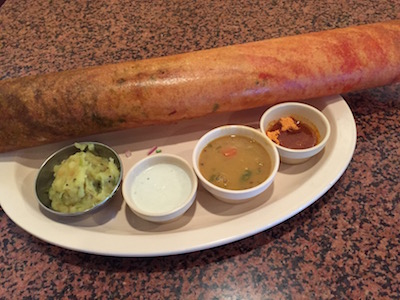 Also on the menu are authentic specialties just as whimsical in appearance and also healthy, such as Vada, a savory cousin of the American doughnut, pieces of and Puri, clouds of fried unleavened Indian bread that looks like kin to the southern American popover.  Dahi Vada, deep-fried lentil donuts, laced with cilantro, dipped in a special yogurt sauce are served with yogurt and spices, the telltake clue it will not be sweet.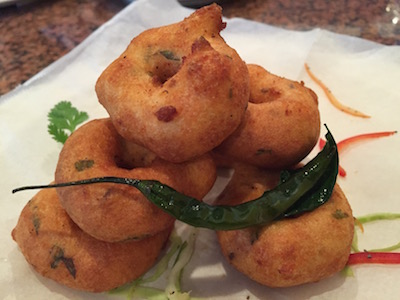 At Annapurna the Puri puffs out on on a tray like mountain Annapurna restaurant shares a name with on a metal tray with Channa masala, a spicy garbanzo bean stew filled with Serrano chilies  usually topped with pomegranate molasses, and the Indochinese Paneer Chili, spiked with chilies in a sauce, onion and green pepper.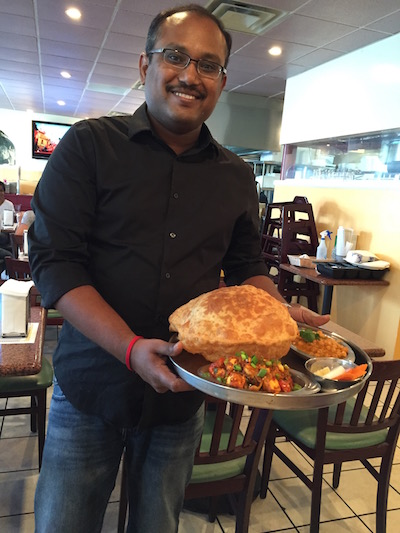 Dosas have one of the  high rankings in the current World's 50 most delicious foods compiled by CNN.   The paper thin dosas are compared to a pancake but they most resemble a French tuille in appearance with the crunch of a potato chip.
Dosas come in all sizes. The three most popular forms are cylinders, circles that can be folded over into triangles like a crepe and cones, with a tiny one tilted atop a bigger one – or rolled up into a very long family version – it can be as long as the griddle they are cooked on so many families opt to eat them at restaurants with extra long professional stoves, as they have as Annapurna.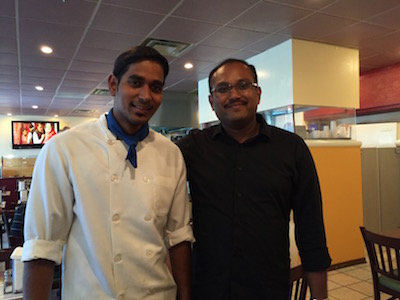 Dosas  provide a great source of complete protein in the combination of rice flour and black gram lentil. This also makes it easy to digest although even one dosa can keep you adequately full because they are high in carbs although they contain no sugar or saturated fats. Not only is it a source of protein but the fermentation process increases the vitamin B and vitamin C content.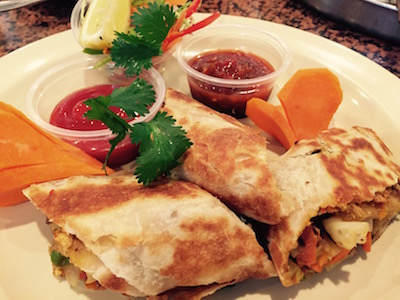 The adaptable Southern Indian Dosas are popular both at breakfast and at any time of the day. They are as versatile as a pancake and can be infused or filled with flavorings and spices (a popular one honors the Indian flag with chilies and cilantro at either end.  They can be stuffed to make for a hearty meal, and their flavors enhance the most popular combinations they are paired with, most often coconut or tomato chutneys, or sambar vegetable curry. Sambar is a lentil-based vegetable stew or chowder based on a broth made with tamarind.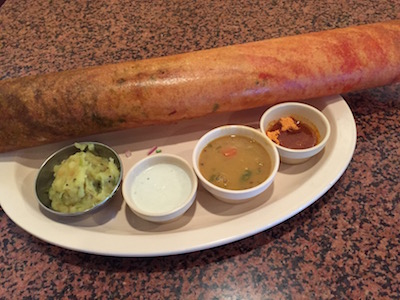 Dosas Do not take the place of other dishes on the Annapurna Restaurant menu, nor a splendid buffet of changing items, including the Far far crisp with the fun name. One example of their changing Thali's includes appetirs, rice, stew, urry, pickle, veggie, raita (yogurt based sauce, and dessert served on a round metal tray with a bowl of rice in the middle.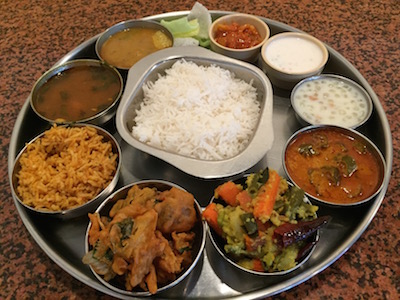 Dessert features  Halwas made of fresh fruits and carrots, cooking in a heavy milk sauce and melted butter, and the Gulab Jamoon shown below.
Order online for pickup or delivery below.