Introducing Mama Lion: Koreatown's New Supper Club
(photos and content courtesy of Mama Lion) Mama Lion, L.A.'s New Lively Supper Club  officially opened its doors this spring, combining the elegance of mid-century glamor with modern day epicureanism in the heart of Koreatown, which has expanded from a "hole-in-wall" foodie insider's secret to an ever diversifying neighborhood because of the influx of professionals and the Metro.
Los Angeles, in fact,  serves as home to the largest population of Koreans outside of Korea itself.  Among them is hospitality veteran Mama Lion Owner Robert Kim, with 18 years experience in the food and beverage industry.  Chef/Partner Michael Hung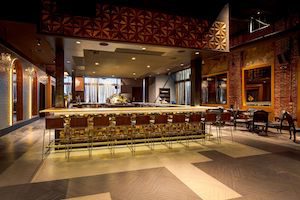 Kim had always envisioned Mama Lion as a Supper Club, true to its original definition; a traditional dining establishment that also functions as an affordable social club. "Koreatown is now the new frontier of Los Angeles, much in the way Downtown once was," says Hung.
Mama Lion's "forward thinking" Supper Club Menu includes different sections starting with Snack and Finger Foods, ( Crispy Avocado Samosa, Isaan Style Sausage, Truffled White Bean Hummus). 
The Raw section features seafood, including Oysters on the Half Shell, Hamachi Tartare and Santa Barbara Uni Tostaditas
Shared plates, generous enough to split,  are more mainstream.  On the list are  Potato and Apple Salad,  Young Field Greens Salad, Seared Foie Gras,  Plancha Seared Gulf Shrimp  and  Plancha Mediterranean Bass,.
Desserts are decadent enough for night club fare, such as the Classic Soufflé with smoked apricot and hazelnut anglaise and the Warm Humboldt Fog Goat Cheese, joined by honey-beet conserve, candied almonds, and grilled raisin bread.
Equally integral to the Mama Lion experience is the Cocktail Menu created by Head Barman Todd Eames, featuring thirteen unique and luscious libations which serve as a refresher course on fundamental cocktails, with a twist.
Examples include  he Black Swan classic, here with cardamom-infused vodka, vanilla, Kahlua, cold brew, and coconut foam, while the Harpoon is mixed out of  vodka, St. George Raspberry Liqueur, cranberry liqueur, lime, and simple syrup. Guests intending on visiting the extended whiskey family will enjoy the Rusty Nail, made of Johnny Walker Black, atholl brose and pecan bitters.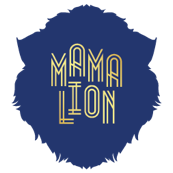 Mama Lion's designer and visionary is George Kelly of Kelly Architects.   The exterior of the building has been largely left untouched, with just enough grit to lend an aura of mystique to all who pass by. Inside, blues and gold are the forefront color palette with the focal point being the bar itself Elements leftover from the building remain intact and incorporated into the glamour theme of glamor. For a touch of artistic drama, local Koreatown artist Eddy Lee created several original works of art exclusively for Mama Lion using birch wood as his canvas and the female form as his subject.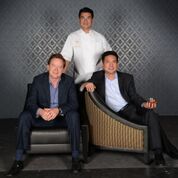 Owner Robert Kim spent time at some of Los Angeles's most prestigious dining establishments such as Eurochow.  He   took ownership of the  property in his old stomping grounds of Koreatown that once held the original Mama Lion, a "groovy" nightclub where first generation and newly immigrated Koreans flocked for a cheap drink and to socialize. Though Kim's concept is a vast departure from what she once was, he decided to pay homage to the Korean community of that era in keeping Mama Lion's namesake.
Mama Lion's Chef/Partner Michael Hung's illustrious credentials include stints at the Traci Des Jardins's Jardiniere in San Francisco plus heading the kitchens as  Executive Chef at Faith & Flower in Downtown Los Angeles, and opening the highly-acclaimed Viviane in the Avalon Hotel in Los Angeles
Aidan Demarest, previously of Seven Grand, The Edison, 1886 Bar, The Spare Room and Neat Spirit Bar serves as Beverage Program Director and General Manager.   Head Barman is Todd Eames.
Mama Lion is open every Mon- Fri from 5pm to 2am, and every Sat-Sun from 6pm to 2am. The kitchen serves the full Dinner Menu week-days from 5 PM to 10pm and onweek-ends from 6 pm to 10:30 pm. a Late Night Dining Menu is offer nightly from 10:30 pm to 1:30 am. For more information or reservations, please visit www.MamaLion.com or call Mama Lion directly at 213.377.5277.