New Ethnic Father's Day Feasts 2017 Across LA
(Gerry Furth-Sides) Family and good food makes every holiday memorable, especially when reservations at our following favorite restaurants make it easy, festive and delicious for the entire family especially with the welcoming, professional service to each and every guest.
CELESTINO RISTORANTE
At Pasadena's Celestino Ristorante, Executive Chef Calogero Drago's  chooses his Italian holiday menu from generations of family recipes featuring local, seasonal ingredients.
Start with a sumptuous order of Zuppetta di Cozze e Vongole Pepate, mussels and clams in a delicate tomato broth with black pepper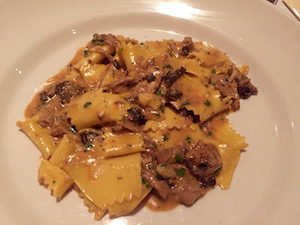 Entrees include pasta of course, such as our favorite Pappardelle con Fagiano e Morelle, a gamey, sophisticated fettuccine dish with pheasant and morel mushrooms.  The attentive staff can help with a wine pairing or a cocktail from the bar.
Father's Day: Sunday, June 18th, 2017 from 5:30 pm to 10:30 pm; 141 S. Lake Avenue, Pasadena, CA 91101; 626.795.4006; www.CelestinoPasadena.com
RED O SANTA MONICA: localfoodeater.com/tag/red-o-santa-monica
Chef Marc Johnson's Red O Santa Monica Mexican brunch favorites include  the Huevos Rancheros with two eggs any style, refried beans, queso fresco, guacamole, crema, rancheros sauce.  Chef Johnson's Red Omelette is made with rajas, kale, mushrooms, jack cheese, breakfast potatoes, salsa morita, and a choice of bacon, chorizo or sausage.
Toast with Red O Santa Monica Endless Mimosas, Tequila Sunrises, Sangria, or Bloody Mary's while looking out at the gorgeous Pacific Ocean. Red O Santa Monica will serve their traditional Dinner Menu on Father's Day.
Father's day: Brunch from 11:00 am to 3:00 pm and for Dinner from 5:00 pm to 10:00 pm; 1541 Ocean Avenue; Suite 120; Santa Monica, CA, 90401; 310-458-1600; www.redorestaurant.com
SPIREWORKS (localfoodeater.com/la-spireworks-version-turkish-doner-open/)
For a more casual option, Turkish-inspired, döner Destination Sandwiches, Salads and Rice Bowls with vegetarian fillings or meats grilled on their special rotating vertical spits are available with beef, chicken.  At SpireWorks™ in Westwood Village and Eagle Rock, Dads receive 50% off all beverages, including beers and wines at the Westwood Village location,  June 16-18).
Father's Day: 11:00 am to 10:00 pm; SpireWorks Westwood Village: 1061 Broxton Avenue, Westwood, CA 90024; 424.220.6299; SpireWorks Eagle Rock: 4945 B Eagle Rock Boulevard, Los Angeles, CA 90041; 323.895.7888; www.SpireWorks.com
Assorted Destination Bowl Photo, Phots
THE RAYMOND 1886 (localfoodeater.com/pasadena-raymond-makes-american-regional-history/)
Celebrate at the historic, inviting The Raymond 1886  with Executive Chef Tim Guiltinan's special Father's Day Brunch.
Breakfast Burrito is only one of the tempting dishes, filled with pork belly, eggs, bell pepper, onion and cheddar cheese and smothered in house enchilada sauce.
Caution:  The 1886 Bar's master mixologists make mid-morning cocktails so inviting it could make a meal.  We know.   seasonally-infused Bloody Mary pictured above tells the story.
Father's Day:  9:00 am to 2:30 pm for brunch and 5:30 pm to 10:00 pm for dinner; 1250 South Fair Oaks Avenue, Pasadena, CA 91105; 626.441.3136; www.TheRaymond.com